Competitiveness of European Banks and Financial Technology
The data has been compiled from publicly available information released by the European Central Bank, European Commission, Eurostat, the European Banking Authority, International Monetary Fund, national competent authorities and members of the European Banking Federation. Unless otherwise noted, all graphs and tables have been produced to illustrate the figures mentioned in the relevant chapters.

The European banking sector continued its positive recovery in 2016, with the recapitalisation of EU banks completed and financial fundamentals improving.
However, the tightening grip of new regulations, along with the disbursement of new technologies, presents banks with new challenges and opportunities.
Regulations have led to increased capital and liquidity needs for banks, placing pressure on profitability with the cost of equity (COE) exceeding the ROE since 2008. This ROE gap has created an unsustainable environment for EU banks, making it difficult for these banks to be profitable.
This development is compounded by a low price-to-book ratio, and a rise in operational costs resulting from increased compliance and reporting.
According to a confidential survey to senior executives of European banks the following challenges constitute the most significant ones facing EU banks:
Capital requirements
Reporting requirements
Liquidity requirements
Market conditions have presented challenges for banks across the world, but a gap has begun to emerge between the bank indices of US and EU banks, with significantly fewer European banks finding themselves among the top 30 largest banks worldwide, compared to before the crisis.
Improving economic conditions in Europe have contributed to, and will continue to aid, the recovery of the European banking sector. But populist sentiment in Europe has made it difficult for policymakers to implement needed fiscal reforms, not least in the euro area.
Despite these challenges, the EU remains a favourable environment for banks.  According to EBF members, the presence of the Single Market, the euro, and the uniform regulatory framework are all beneficial aspects of operating in the EU.
EBF members also agree that digitalisation is one of the main methods for banks to increase their competitiveness, with 90% of banks stating that digitalisation is a priority for them. The growth of FinTech and digital payment solutions provide particularly interesting opportunities.
Digitalisation also comes with a downside, especially with the displacement of IT and administrative services within banks growing. Despite these drawbacks, banks are usually at the forefront of technological development, and should be encouraged to continue this innovation moving forward.
Other challenges to operating in the EU, beyond those already mentioned, include the prevalence of negative interest rates and the incomplete integration of the euro area.
Digital transformation
The digital transformation of European banks continues with banks projected to spend in excess of €62 billion on IT in 2017[1].
New technologies in a variety of fields provide banks with the opportunity to increase their revenue and reduce cost, especially important in an increasingly regulated environment. According to McKinsey, upwards of 30% of costs can be eliminated by digitalisation.
By 2018, banks in Western Europe are estimated to receive over half of new revenue from digital sales[2].
These developments are also beginning to appear in consumer's expectations and behaviour. According to the Commission, in 2016, 45% of consumers in the EU-28 had purchased a good online within the past three months, an 88% increase from 2008.
Digital banking services remain a strategic priority for European banks, with 61% of European banking executives viewing investments in technology as very important[3].
The internet, cloud-based solutions, and the mobile phone are the primary drivers of these innovations. But the rise of machine learning, artificial intelligence, and the internet of things (IoT) provide interesting opportunities for future developments.
Challenges do remain. Differing tax systems within the EU, as well as significant discrepancies between countries in their adoption of these technologies, provide room for future improvement.
Banks are also finding solutions to speed up their payments' processing systems. Driven by EU regulatory frameworks (PSD2), European banks are leading globally in terms of the implementation of real-time payments.
Policy changes could also help foster growth. Notably, the creation of a Digital Single Market could create over €415 billion in additional growth and 3.8 million new jobs in the EU[4].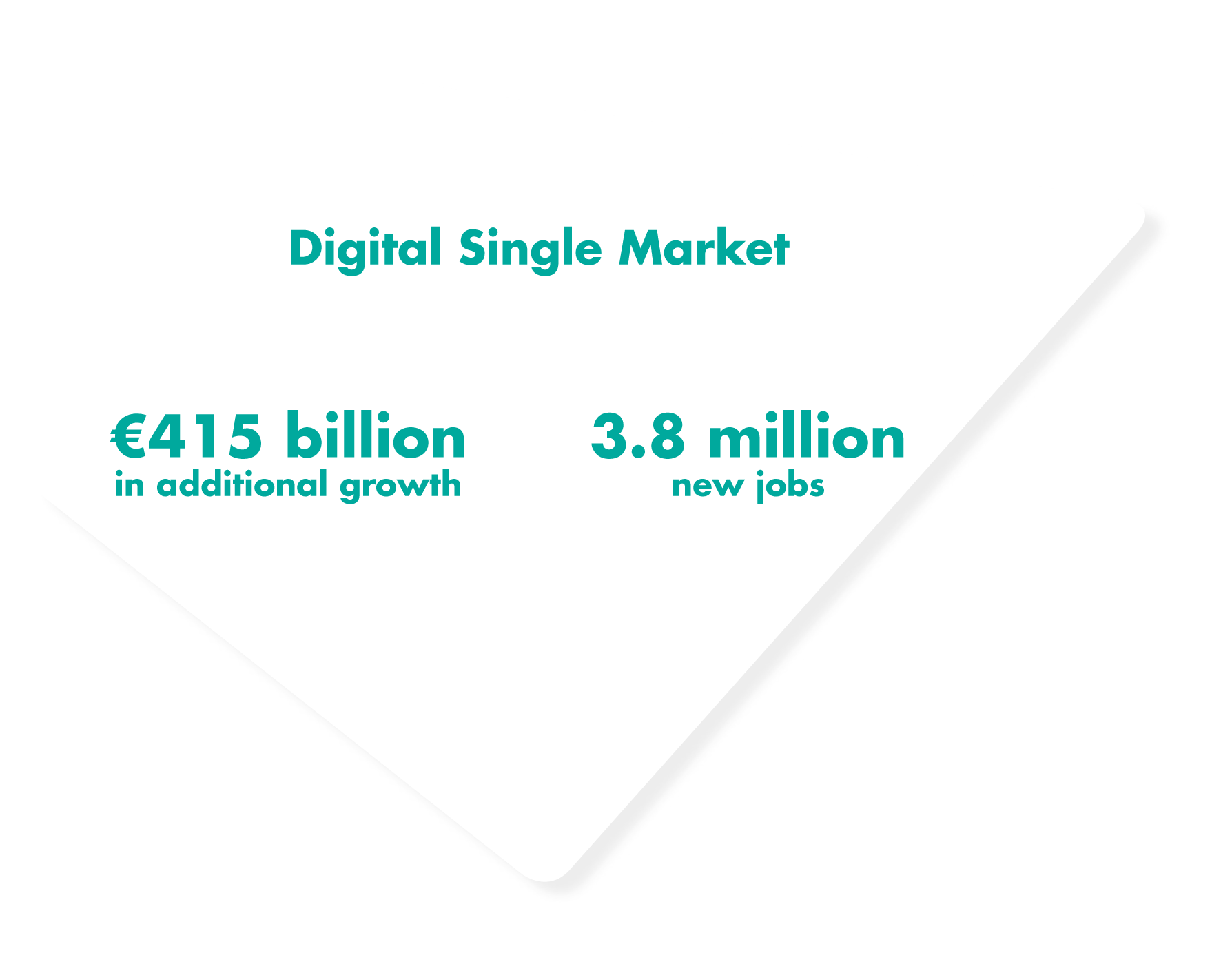 ___________________________________________
[1] CBR (2015). European bank IT spending gaining momentum by 2017. Retrieved from: http://www.cbronline.com/news/european-bank-it-spending-gaining-momentum-by-2017-4511839/
[2] McKinsey (2016). Strategic choices for banks in the digital age. Retrieved from: http://www.mckinsey.com/industries/financial-services/our-insights/strategic-choices-for-banks-in-the-digital-age
[3] Ernst & Young (2016). European banks reposition for a long-term environment of low growth. Retrieved from: http://www.ey.com/Publication/vwLUAssets/EY-ebb-2016-infographic/$FILE/ey-ebb-2016-infographic.pdf
[4] European Commission (2015). EU Digital Single Market: a Strategy to build and sustain Trust. Retrieved from: http://ec.europa.eu/justice/newsroom/news/150429_en.htm
Banks embracing financial technology
Financial technology, also known as FinTech, provides unique opportunities for both banks and consumers. For instance, peer-to-peer payment apps, which are being widely adopted by banks, make it easier for consumers to send money to each other, while new risk management services which utilise data provide banks with an advantage over other firms in this changing environment.
Other emerging technologies are also entering the financial landscape and show promising signs of useful application. European banks are strategically investing in several FinTech solutions and firms including wealth management, lending, payments, regulatory technology, and distributed ledger technology, with 92% of banks investing in blockchain technology and 62% of banks investing in financial services software and regulatory technology[1].
Banks are also finding solutions to speed up their payments' processing systems. Driven by EU regulatory frameworks (PSD2), European banks are leading globally in terms of the implementation of real-time payments.
[1] CBInsights (2017). Where Top European Banks Are Investing In Fintech In One Graphic. Retrieved from: https://www.cbinsights.com/blog/europe-bank-fintech-startup-investments/
Cybersecurity
A notable challenge accompanies technological developments. Cyberattacks are increasing in both frequency and sophistication, and financial institutions remain a prime target. Cybersecurity today is the most important IT risk for banks in Europe. 56% of bankers said that they were planning to enhance cybersecurity in their firm, a nine percentage point increase over the past three years[1].
Malware attacks are a significant threat across the entire world. In Q1 2017 alone, Kaspersky Lab reported that it blocked nearly 500 million attacks launched from the web[2]. While Europe performs comparatively better than most other parts of the world, 13.9% of German web users were still attacked by malware, the lowest percentage in Europe. Greece topped EU member states with 28.21% of web users attacked.
Mobile banking applications are also targets of malware attacks. However, globally, the percentage of users affected by these attacks is very low. In Russia, the country with the highest proportion of attacks, only 1.64% of mobile banking users were attacked.
With security being a top concern for consumers, and any attack damaging trust in a bank, public and private investments in technologies, which counteract these attacks, are crucial.
As part of its new cybersecurity initiative, the EU announced in 2016 that it will invest over €450 million in cybersecurity, with private-sector partners further contributing three times that amount.
Other security-enhancing developments include the adoption of blockchain, with over 77% of financial institutions expected to adopt it by 2020, and biometric authentication, which provide an additional layer of protection for consumers and banks[3].
____________________________
[1] Ernst & Young (2016). European banks reposition for a long-term environment of low growth. Retrieved from: http://www.ey.com/Publication/vwLUAssets/EY-ebb-2016-infographic/$FILE/ey-ebb-2016-infographic.pdf
[2] Securelist (2017). IT threat evolution Q1 2017. Statistics. Retrieved from: https://securelist.com/it-threat-evolution-q1-2017-statistics/78475/
[3] PWC (2017). Redrawing the lines: FinTech's growing influence on Financial Services. Retrieved from: http://www.pwc.com/gx/en/industries/financial-services/fintech-survey/report.html